DFW Healthcare Brief: The 'Best Orthopaedic Surgeons in Dallas' and Texas Health's Leadership Changes
The Best People Awards have named its list of the 10 Best Orthopaedic Surgeons in Dallas. The awards were launched by Social Catfish, a search and verification technology program, and recognizes professionals for their skill and community impact. The ranking is based on customer satisfaction, reviews, career achievements, philanthropy, and more. Below are the organization's rankings of the ten best orthopaedic surgeons in Dallas.
Dr. Robert E. Berry, Orthopedic Surgery and Sports Medicine
Dr. John A. Racanelli, Texas Orthopaedic Associates
Dr. John S. Early, Texas Orthopaedic Associates
Dr. Marc Goldman, Chief of Orthpaedics, Medical City Hospital
Dr. Ishaq Y. Syed, Southwest, Spine Institute
Craig C. Callewart, Dallas Spince Orthopedic Surgeon
Dr. J. Stephen Appleton, Baylor Scott and White Health
Dr. Anupam Pradhan Southwest Joint Replacement and Sports Medicine Center
Dr. Sumant Butch Krishnan, Baylor Scott and White Health
Dr. M. Brett Raynor, Texas Orthopaedic Associates
Faces of Orthopedics
The surgeons at Baylor Scott & White
Orthopedic Associates of Dallas are ready to address your orthopedic problems. The group consists of fellowship-trained subspecialists in sports medicine, spine surgery, foot and ankle surgery, hand surgery, shoulder and elbow surgery, and joint replacement. They treat acute and chronic conditions in patients of all ages.
The surgeons believe in shared decision making between physicians and patients. You can expect them to listen to how your orthopedic problems are affecting your ability to perform the activities you enjoy. When a diagnosis is reached, they will discuss nonoperative and operative treatment options and help you decide what works best for your individual needs.
6 centers offering augmented reality-assisted spine surgery
The xvision Spine augmented reality system, launched by Chicago-based startup Augmedics in December, allows for real-time 3D visualization of the spinal anatomy during surgery.
The system costs about $179,000 and features a headset that helps surgeons accurately place implants without having to look away from the operative table.
Here are six centers using the technology that Becker's Spine Review has reported on since its launch:
Neurosurgeons Daniel Sciubba, MD, and Timothy Witham, MD, debuted the technology at Johns Hopkins in Medicine in June.
Frank Phillips, MD, performed a pair of minimally invasive AR-assisted spine surgeries with the Augmedics device at Midwest Orthopaedics in Chicago in June.
James Lynch, MD, was among the first private practice surgeons in the U.S. to perform a spinal fusion with the device at Renown Regional Medical Center in Reno, Nev.
Christopher Good, MD, performed surgery at Reston (Va.) Hospital Center with the technology, which he said will "elevate" the hospital's spine program.
Ishaq Syed, MD, is one of a few surgeons at Baylor Scott & White Medical Center – Frisco (Texas) to offer AR-assisted spine surgery with the Augmedics system.
John Keller, MD, performed his first AR-assisted spine surgery at Metro Health-University of Michigan Health in Wyoming, Mich., in September.
Surgeons Use Augmented Reality In The Operating Room
The augmented reality device can help doctors during complicated spine surgeries, according to surgeons in Frisco
Doctors in Frisco are using three dimensional technology to ease back pain. They're the first in the state to use augmented reality during spine surgery and their patient told NBC 5 health reporter Bianca Castro he's now able to get back to life before back problems.
"It was getting worse and worse by the day. I'd get sharp pains in the back of my thighs like someone was stabbing me with a knife," said Guy.
Doctors determined that slipped discs in his spine were putting pressure on his nerves and he needed a spinal fusion to correct the problem.
"It's called augmented reality. This technology actually allows us to see the bony anatomy in real-time, in a 3-D model that we can see while we are placing the screws, improving our ability to safely place the screws in the patient's bones," said orthopedic spine surgeon at Baylor Scott & White Medical Center Frisco Dr. Ishaq Syed.
Baylor Scott & White Medical Center – Frisco Becomes First Hospital in Texas to Deploy New Technology to Enhance Patient Safety During Spine Surgery
Ishaq Y. Syed, MD - news.bswhealth.com
FRISCO, Texas – Baylor Scott & White Medical Center – Frisco has added an innovative operating room technology aimed at improving patient safety during spine surgery.
The new, FDA-cleared surgical guidance system allows a surgeon to use augmented reality to see a patient's 3-dimensional (3D) spinal anatomy, giving the surgeon better visualization, which can lead to easier, faster and safer surgeries.
"We continuously evaluate opportunities to improve the safety and quality of the care we provide to our patients," said Trevor Castaneda, CEO of Baylor Scott & White – Frisco. "This addition to our orthopedic surgical suite will help the surgeons on our medical staff visualize the target of the surgery, adding an extra layer of precision to give our patients better outcomes."
BEST DOCTORS
Baylor Scott & White Orthopedic Associates of Dallas
Orthopedic Surgery
October 2019 dmagazine.com
When patients in the Dallas area need advanced orthopedic care, they need to call only one number—Baylor Scott & White Orthopedic Associates of Dallas. With 18 physicians and four locations, Baylor Scott & White Orthopedic Associates of Dallas has you covered—from your neck to your feet. Because each physician specializes in different orthopedic specialties, patients receive quality, expert care for a variety of issues, all within a single network of skilled physicians.
Baylor Scott & White Orthopedic Associates of Dallas is among the oldest and most experienced orthopedic practices in Dallas, treating patients for more than 60 years. All the physicians and surgeons are board certified and fellowship trained, allowing patients to be seen by doctors who have devoted years of their lives to the study and treatment of all types of musculoskeletal conditions. They are widely recognized as leaders in their respective fields for their expertise and unwavering commitment to patient care. As a result, the physicians teach and mentor future orthopedic physicians and surgeons through the Baylor University Medical Center Orthopedic Surgery residency program. "It's important for us to help train the next generation of physicians:" Dr. Jennifer Chu says. "We are all involved in this program, which is our way of giving back and a testament to our dedication to quality patient care."
Because all surgeons at BSW Orthopedic Associates of Dallas are involved in teaching and academics, it's no surprise that each one offers patients innovative treatments. "We are leaders in the use of orthopedic technology and treatment," says Dr. Richard Rhodes. 'We are continually among the first to bring advances in our field to Dallas:' For example, Baylor Scott & White Orthopedic Associates was one of the first practices in Dallas to offer robotic-assisted knee replacement and orthopedic stem cell therapy and is currently using nonsurgical biologic treatment for arthritis and tendon injuries.
From diagnosis and surgery, to rehabilitation and beyond, Baylor Scott & White Orthopedic Associates of Dallas offers a full spectrum of care. Services include general and specialty clinics, digital X-rays, and physical therapy. Their surgeons specialize in both minimally invasive and traditional surgical techniques and share a mission to use the least invasive and most conservative options whenever possible. When needed, they also have access to top pain management specialists in the area. All physicians are involved in community outreach efforts, such as serving as sports team physicians, and remain active in prestigious academic and medical orthopedic associations, both locally and nationally.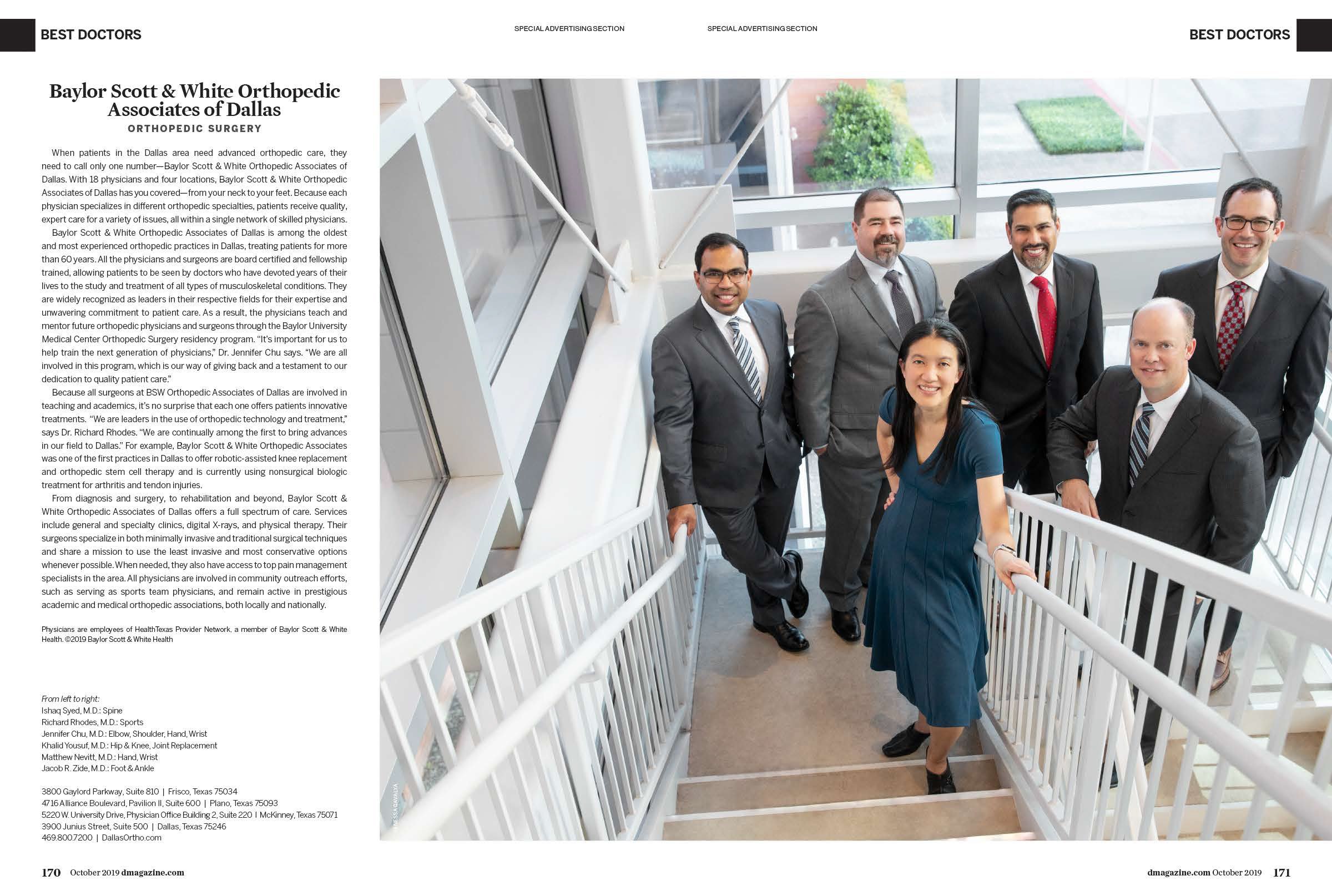 What's causing my neck pain and arm pain?
A common cause of neck and arm pain is a pinched nerve, also known as cervical radiculopathy. Several structures in the cervical spine can cause pressure on a nerve as it branches from the spinal cord to travel down your arm where it provides motor and sensory function.
Two of the most common culprits behind a pinched nerve are herniated discs and bone spurs. Here's what you need to know about these causes of neck and arm pain — and when to consult an orthopedic specialist for help.
D Magazine
Ishaq Y. Syed, MD grew up in Cleveland, Ohio. He is board certified in orthopedic surgery and fellowship trained in spine surgery. He received his undergraduate degree in Biomedical Engineering at Johns Hopkins University where he graduated as a member of Tau Beta Pi. He received his medical degree from Case Western Reserve University. He went on to complete his residency at Rush University Medical Center and his fellowship in spine surgery at the University of Pittsburgh Medical Center.
What causes cricks in the neck?
Do you ever wake up in the morning with a stiff neck and hear popping or cracking noises? Whether you slept like a rock in a contorted position or uncomfortably tossed and turned all night, waking up with neck pain can be debilitating to everyday life. As an orthopedic specialist, patients will often visit my office to ask whether their neck pain is normal and where it is coming from.